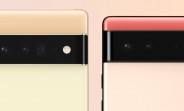 The Google Pixel 6 Pro and Pixel 6 will indeed use the 50MP Samsung GN1 sensor for their main cameras.
The rumor was confirmed by a string of code in Google's new Camera app, which arrived with the Android 12 Beta 4.
The code mentions 'p21', which refers to the upcoming Pixel 6 series, attached to a 'gn1_wide', which is very straightforward to decipher.
The GN1 sensor, which Samsung unveiled last May, has 1.2μm-sized pixels before binning. Combining them 4-to-1 turns the 50 million 1.2μm pixels to 12.5 million 2.4μm-sized pixels.
The sensor was used in the vivo X60 Pro+ and…