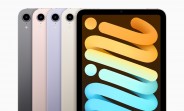 On Tuesday, Apple held its annual September event, where it announced a bunch of new products. This includes the new iPhone 13 and iPhone 13 Pro pairs, new iPad and iPad mini models, and the new Apple Watch Series 7. Here are some of my thoughts on these new releases.
Apple Watch Series 7
The Series 7 announcement was arguably the most underwhelming part of the event, which is why I'll start with it first.
The main thing here was the new display, which does admittedly look quite nice. It's not clear whether the company is using a curved panel or just curved glass to achieve the…