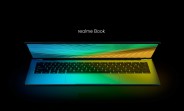 Realme's been teasing the Realme Book since June, and today it announced that the laptop will be fully unveiled on August 18 in China at 3PM local time.
On the same day, Realme will introduce the Realme GT series in India, and it's currently unclear if the Realme Book will be announced in the company's biggest market or will remain China-exclusive initially.
That said, while Realme hasn't detailed the specs sheet of its first laptop, its leaked and official images revealed the notebook will look like Apple's MacBook Air.
We also know that the Realme Book will pack a 2K display…