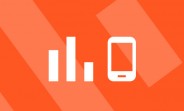 The Redmi Note 10 Pro topped our popularity chart for yet another week as Samsung's newly announced Galaxy A52s took second place in week 35. The main A50 series models typically enjoy great interest, while the S refreshes rarely hang around the top 10 for long, so it will be interesting to see if this one breaks the mold.
The Redmi 10 is down to third, ahead of the Poco X3 Pro, which retains the fourth position.
A couple more Samsung phones follow, the Galaxy S21 Ultra and Galaxy A12 sitting pretty in fifth and sixth. Behind them is a Redmi pair – the 10 Prime and Note 10.
Apple…